Secure Autonomous Multi-Sensor Unit

The TELEGRID Secure Autonomous Multi-Sensor Unit (SAMSU) is a high-security, high-performance networked system designed to operate in an unmanned tactical environment. The SAMSU includes features that make it an ideal solution for autonomous vehicles including separation and insulation of interfaces and a patent pending restart circuit that automatically initiates a restart process based on predefined system operational parameters.
The flexible design allows custom application development and connectivity to multiple secure networks.  Flexible design features include additional service interfaces such as serial ports (both balanced and un-balanced), Controlled Area Network (CAN) bus, and direct GPIO interface lines to the internal Main Processor. Additionally the unit can connect to networks over fiber or copper Ethernet connections. Finally the unit allows connectivity to multiple sensor types including Temperature/ Humidity sensors, Pressure sensors, Accelerometer, Gyroscope and Liquid sensors. Custom sensors or other interfacing devices can also be accommodated.  Click for more information
Traffic Flow Security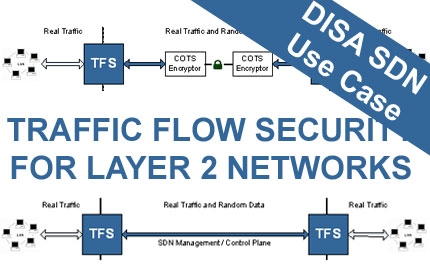 The Traffic Flow Security (TFS) device masks the transmission of information in order to prevent interception and/ or analysis of traffic patterns and characteristics. TFS is of particular importance in military applications where the activity pattern can indicate the possibility of an action being planned or executed. By intercepting and analyzing the flow of information, even encrypted information, an enemy would be able to determine the status of an operation.
TELEGRID's standalone Layer 2 TFS Device produces a constant data stream at a programmable data rate regardless of the data rate of the input Local Area Network (LAN) connection. It can be used in conjunction with an encryptor or by itself to mask data transmission flow. The device's settings are user configurable (data rate, encapsulation method, etc.) and the unit requires little to no setup.  Click for more information
Pre-Compiled OpenSSL Modules

TELEGRID provides pre-compiled distributions of the OpenSSL FIPS Object Module v2.0 (FIPS Module) for multiple operating systems and platforms. FIPS Modules are available for both Linux and Windows on embedded and enterprise systems. The FIPS Modules helps engineers design secure compliant systems quickly.  Click for more information
NetOps Port Security Tool – RSP-1890

The Secure Management Agent (SMA) provides secure access to network management tools over an IP network.  It secures several network management protocols including converting unsecured SNMPv1 to SNMPv3 and providing SSL encryption of Human Machine Interfaces (HMI) (e.g., Telnet sessions, web configuration tools, etc.).  The SMA accesses multiple management tools simultaneously allowing an administrator to customize SNMP signaling with additional alarms from HMI ports.  The SMA hardware unit includes an embedded firewall with physical network separation to protect unsecured element managers.  Click for more information