DESIGN AND PRODUCTION EXPERTISE
TELEGRID sophisticated products demonstrate our engineers extensive hands-on experience in the design, development and production of unique state-of-the-art hardware and software solutions.  This experience includes Microcontrollers (MCU), Microprocessors (MPU), Field Programmable Gate Arrays (FPGA), Digital Signal Processors (DSP), System on Chips (SOC) and Single Board Computers (SBC).  These embedded systems allow for lower power consumption, fast development cycles, lower design cost and small portable form factors.  Over the years TELEGRID has developed close relationships and partnerships with local vendors who provide hardware and testing services.  This includes metal and plastic housings and chasses fabrication, painting services, silkscreening services, and environmental testing laboratories which provide MIL-STD-810G testing.  For these vendors TELEGRID provides all the designs and they provide their specific expert services.
Circuit Design and PCB Layout
TELEGRID engineers are experts in complex analog, digital and RF circuit design and printed circuit board (PCB) layouts.  Since much of our experience involves secure communications equipment our engineers have learned to address complex PCB issues such as separation between RED and BLACK circuits on a single board and RF components interconnections.  The photograph below shows a circuit board designed to accommodate both a BLACK Ethernet connection and a RED Ethernet connection.  It is part of a secure autonomous sensor device currently fielded.
Firmware Design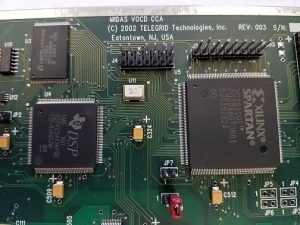 TELEGRID has, over the many years of design and development experience, developed a mature capability of firmware design.  These designs are being used in Field Programmable Gate Arrays (FPGAs) and Digital Signal Processors (DSPs).  The photographs below show two circuits that have had a wide use in TELEGRID products.
Mechanical Housing and Chassis Design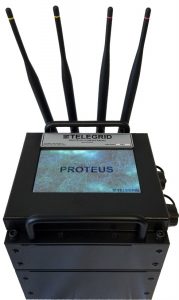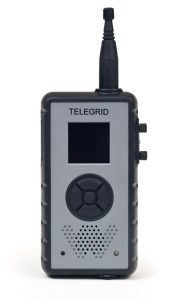 TELEGRID products demonstrate the company's expertise in the design of metal and plastic housings and chasses.  Our mechanical designs have successfully undergone various shock and vibration tests including, when required, MIL-STD 810G testing and USMC BARGE testing.  The first photograph above depicts the flexible chassis designed and fabricated to hold three modules containing elements of our wireless uMesh radio.   The second photograph shows our handheld WZRDNet radio which was tested to MIL-STD 810G.
Power Systems Design and Fabrication
Every piece of equipment or system designed or produced by TELEGRID includes a power subsystem.  These elements range from simple AC to DC power supplies, DC to DC converters or Lithium Ion rechargeable battery packs.  These power subsystems are typically mounted on one of the internal circuit boards inside the unit or are enclosed in a special isolated section of the unit.  Some AC to DC power supplies consist of a "wall-wart" which is plugged directly into an AC outlet.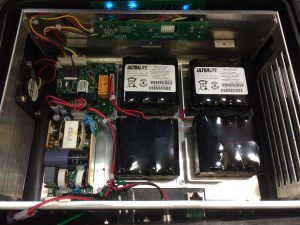 Rapid Prototyping
TELEGRID prides itself in its ability to rapidly produce prototype units as part of most projects' design and development phases.  The purpose of these prototypes is to support proof of concept verification and validation testing of actual units.  In some cases, in addition to prototype units, TELEGRID engineers also design and build simulators to support actual real-time testing.  The photographs below show some prototypes built for specific projects.  They also prove why historically prototypes were known as "breadboards".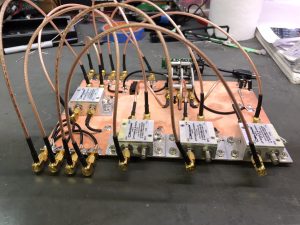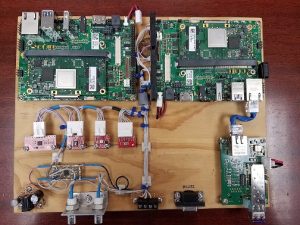 EMBEDDED SECURE SOFTWARE EXPERTISE
TELEGRID's recognized capabilities in the field of Embedded Security are the product of 30+ years' experience in design, development and production of embedded systems used, primarily, in voice and data encryption, secure unified communications and management of networked encryptors.   This experience led to the development, by the company, of the Embedded Security Framework (ESF), a structured collection of encryption and authentication modules designed to accelerate the design and development of embedded security systems.  In 2018, the Framework won the important Cyber Security Excellence Award.

The Framework was developed in line with DISA's Secure Technical Implementation Guides (STIGs).  It includes a FIPS 140-2 compliant encryption engine as well as DoD approved mutual authentication methods (i.e., PKI).  This helps Government Engineers by speeding up the design of STIG compliant embedded systems. The Framework also includes all relevant documentation (e.g., FIPS 140-2 certificate, STIG questionnaire, etc.) which speeds up the certification process.  By incorporating security early in the development cycle product designers can eliminate late-stage redesigns thereby reducing cost and development time.  Additionally the Framework includes integration into centralized authentication services including RADIUS and LDAPS as well as support for Out of Band management via SNMPv3.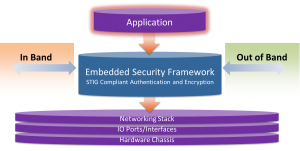 Embedded Security Framework Features
FIPS 140-2 Encryption
FIPS validated algorithms and modules

Pre-compiled FIPS 140-2 compliant applications (Apache, OpenSSH, OpenVPN, etc.)
Public Key Infrastructure (PKI)
CAC/PIV credential-enabling
LDAP Integration with Active Directory
PKI certificates for mutual authentication
Certificate loading and installation for upload into a DoD Certificate Authority (CA)
Configuration of a root of trust/ trust anchor to support chained certificate validation
Revocation checking – Online Certificate Status Protocol (OCSP) or Certificate Revocation Lists (CRL)
Centralized Authorization
System access validation via RADIUS, TACACS+ and Diameter
Developed in line with DISA STIGs
Reduces late-stage redesigns for non-STIG compliant encryption and authentication
Includes relevant documentation to speed certification