SMRTe Web Access Management

Web Access Management tools are designed to secure access to web resources including web servers and web-based applications. TELEGRID's Secure Multi-web Remoting Tool – Enterprise (SMRTe) Model RWP-1802 lets organizations secure web resource without the costs of designing software plugins or the bottlenecks inherent in proxies.
Secures web resources with Multi-Factor Authentication.
Designed for high-traffic web resources.
Patent pending design removes bottlenecks.
No network re-architecting required.
One pane of glass displaying all web resources in the network.
Old Method of Web Access Management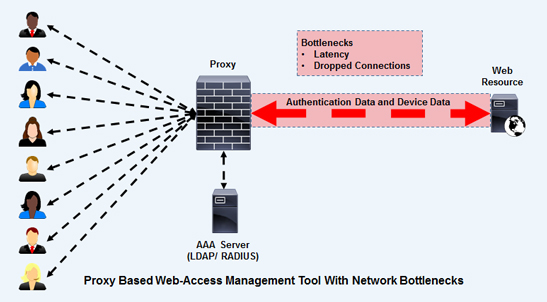 TELEGRID's patent-pending SMRTe securely authenticates the user and then provides direct access to the web resource thereby removing bottlenecks and latency. The SMRTe is not a software plugin and does not require any changes to the underlying web resource's code. The SMRTe is a Virtual Machine that can be placed anywhere in the network without requiring changes to the IP addresses of web resources.
Even though devices and applications do not "sit behind" the SMRTe, the SMRTe's revolutionary design ensures that hackers cannot go around it and access the web resource directly. The SMRTe is able to protect access through its patent-pending technology which utilizes the existing AAA infrastructure and tokenization instead of passwords. This technology removes the possibility of a brute force password attack and the need for a password vault.
SMRTe Web Access Management


| | | |
| --- | --- | --- |
| | Download the SMRTe Web Access Management Flyer to Learn More | |